The 18th Annual Rat Terrier Jamboree SCHEDULE OF EVENTS*
Friday, April 21, 2023
MEET & GREET, Jamboree Field
A fun day of socializing and off-leash play for both humans and dogs.
• Friday, 10:00 am: Jam Field opens
• Friday All Day: Registration and Set-up—Stake out your spot for the weekend, register for Saturday's contests and events! Vendors will be set up. Agility course open for practice.
• Jam tickets will go on sale Friday afternoon for the Friday night auction, Saturday's Ruff-le event, and King and Queen voting.
.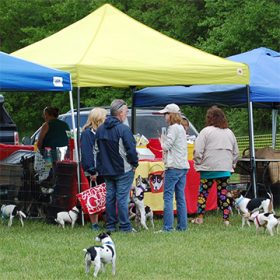 FRIDAY NIGHT COOKOUT – Friday, 5:00 pm at the KOA Picnic Pavilion
Grilled burgers and hot dogs, chips and drinks are on us! Guests are encouraged to bring a side dish or dessert to share.
.
MEET THE KING & QUEEN CONTESTANTS – Friday, 6:00 pm KOA Picnic Pavilion
COSTUME CONTEST – Friday, 6:30 pm KOA Picnic Pavilion
Prizes for the first, second, and third place winners!
.
AUCTION! – Friday, 7:00 pm KOA Picnic Pavilion
LIVE AUCTION! Select items will be offered at auction and sold to the bidders offering the most Jam tickets. That's right—bidding will be with Jam tickets, not dollars! Tickets will be available for purchase during the Meet & Greet Friday afternoon. Items to be auctioned will be on display at the cookout. If you don't win your auction item, you can still use your tickets for Saturday's Ruff-le and to vote for your favorite King and Queen!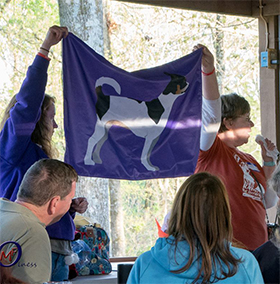 .
CAMPFIRE! – KOA Campground Picnic Pavilion
To wrap up the evening, bring your camp chairs and join us at the big fire pit next to the picnic pavilion.
.
Saturday, April 22, 2023
Let The Games Begin!
Saturday competitions include Terrier Racing, Best Trick, Egg & Spoon Race, and the Kissing Contest. There is no cost to enter. First, second, and third place winners in each event will receive ribbons and prizes. All dogs are welcome to play. Our goal is to provide an enjoyable experience for every dog and handler, regardless of age, skill, or training.
.
MORNING SCHEDULE
• 8:30 am: Jam Field Opens
• 8:30-10:00 am: Registration/Competition Sign-ups at Registration table.
NOTE: RACING ENTRIES CLOSE AT 10 AM
• 9:30 am: Welcome Message
• 9:45-11:00 am: Tricks Contest, followed by the Kissing Contest
• 10:00 am-12:30 pm: Voting for Jamboree King & Queen
• 11:00 am: Racing!
.
LUNCH BREAK – Jam Field, Noon to 1:00 pm
Follow your nose to the meal tent at noon for a scrumptious and satisfying lunch plate which includes a BBQ pork or chicken sandwich, baked beans, cole slaw, dessert, and a drink–all for just $8.00! Lunch tickets may be purchased anytime Saturday morning at the NR ReTail Shop.
.
AFTERNOON SCHEDULE
• 1:00 pm: Group Photo, followed by the Group Howl and the New Rattitude Foster Dog and Alumni Parade
• 2:00 pm: Announcement and Crowning of the 2023 Jamboree King and Queen
• 2:30 pm: Egg & Spoon Race
• 3:00-4:00 pm: Open play
• Closing Message
.
ONGOING ACTIVITIES THROUGHOUT THE DAY
• Jam Ticket Sales and Fundraising Event Activities
• New Rattitude ReTail Shop and Vendor Booths
.
*Events, activities, and scheduled times are subject to change up to and during the day of event.