Our Sick and Injured Dogs
Some of the dogs we rescue have severe illnesses or other serious medical issues that are much more costly than the money brought in by adoption fees. To help nurse these dogs through their medical needs so that they can eventually become healthy and adoptable, we must find sponsors to help with the costs. Please read their stories and consider becoming an angel that these Rat Terriers so desperately need. Canine Clinic Donors are listed on our Donor Recognition Board with donations of $50 or greater denoted by our clinic icon. Also, please pay a visit to our Heartworm Info web page to learn about Ratties needing Heartworm Treatment.
NOTE: In the event that donation amounts are raised in excess of the required vetting for any particular clinic dog, the overage will be used to assist other current or future New Rattitude clinic dogs. All clinic funds stay within the clinic specifically for dogs with special financial health needs.

Jilz – Pregnant, Heartworm Positive, Leg Surgery
This mother-to-be is Jilz. She lived outside in a kennel with two unaltered males. You've heard of backyard breeders? Jilz was dumped by her "breeder" along with four three-month-old puppies, and one eleven-month-old puppy. We believe Jilz is pregnant with her third litter within the past year, and she's only three years old herself! A responsible breeder will allow mothers to have breaks between heat cycles.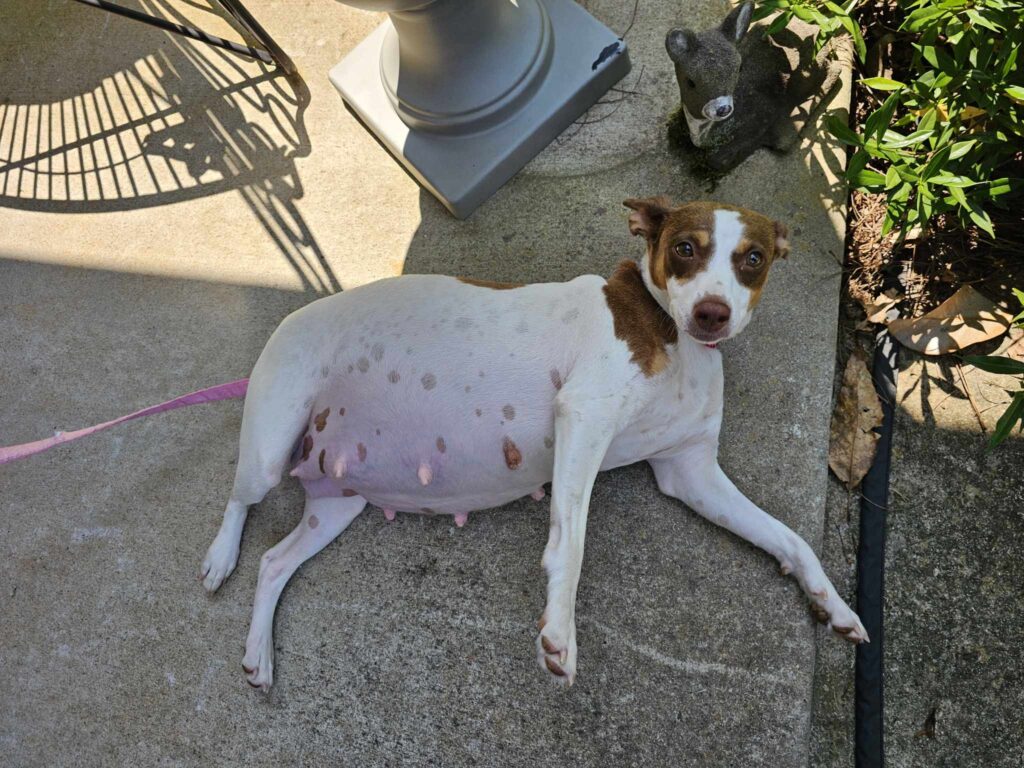 In addition, Jilz needs surgery to remove pins in her leg from a prior orthopedic surgery. She limps and can't straighten her leg because the pin went through the elbow. And, she's heartworm positive, so will need to endure heartworm treatment after the puppies are weaned and she has leg surgery and spay surgery.
This will be Jilz' final litter. She is expecting EIGHT little ones and is due around the first of August! She must be tired of being pregnant and raising babies, so let's give her a virtual baby shower to make sure Jilz and her kiddos have all their needs cared for! You can shop New Rattitude's wish list on Chewy.com (New Rattitude Inc | Hampton, GA | Chewy), which has been tailored just for her. Or, if you prefer to donate money, click on the "sponsor this dog" button below.
If you prefer to send a check, mail it to New Rattitude, PO Box 91, DeWitt, MI 48820. Please be sure to write "Sponsor Jilz" in the note field of your check.
THANK YOU!
Last updated: 08/07/23
---
Mollie – Demodectic Mange
Mollie is a five- to six-year-old rat terrier who was found as a stray and brought to a county animal shelter in Georgia. Although she was microchipped, the apparent owners never responded to calls from the shelter. As you can see, Mollie is severely emaciated, and nearly hairless as a result of an acute case of demodectic mange. Demodectic mange is caused by a parasitic mite that lives in the hair follicles of dogs. All normal dogs have a few of these mites on their skin. As long as the body's immune system is functioning properly, these mites cause no harm. Adult dogs that have the disease usually have weakened immune systems due to illness or malnutrition, allowing the number of skin mites to increase rapidly.
Mollie's foster mom says she's in the worst shape of any dog she has ever seen (and she works at a vet's office!). Mollie also had several kinds of intestinal parasites, which contributed to her malnutrition, but is fortunately heartworm negative. She will require at least three months of hands-on care, including every other day baths with a prescription shampoo. She is on a special high calorie prescription food three times a day and NexGard every month to treat the mange. In the two weeks since Mollie came to New Rattitude her skin has shown some improvement, but we have a very long and costly road ahead. We will be posting updated pictures as we go along so everyone can share in her progress.
If you would like to donate towards Mollie's medical care, click on the "sponsor this dog" button below, or send a check to New Rattitude, PO Box 91, DeWitt, MI 48820. Please be sure to write "Sponsor Mollie" in the note field of your check.
THANK YOU!
Last updated: 06/14/23
---
---
---