Limited quantities are available of the items below.
Shipping/handling will be charged at check out based on total order weight. Shipping to continental USA only.

Quick links to other ReTail Shop pages:
Dog Gear * Giftables * Signage
Rat Terrier Car Coasters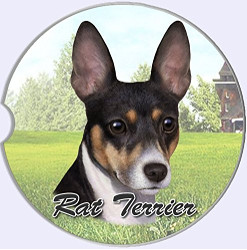 ---
Rattie car coasters, perfectly sized (2-1/2″ diameter) to fit the cup holders in your car, truck, van, or boat, are more than just an attractive decoration. They are also very practical. Made of stoneware, these durable coasters provide continuous absorption to keep your vehicle's cup holders dry from beverage drips and condensation. They have a convenient finger slot on the side for easy removal.
PRICE: $3.00 (ONE remaining)
---
A Canine's Memoir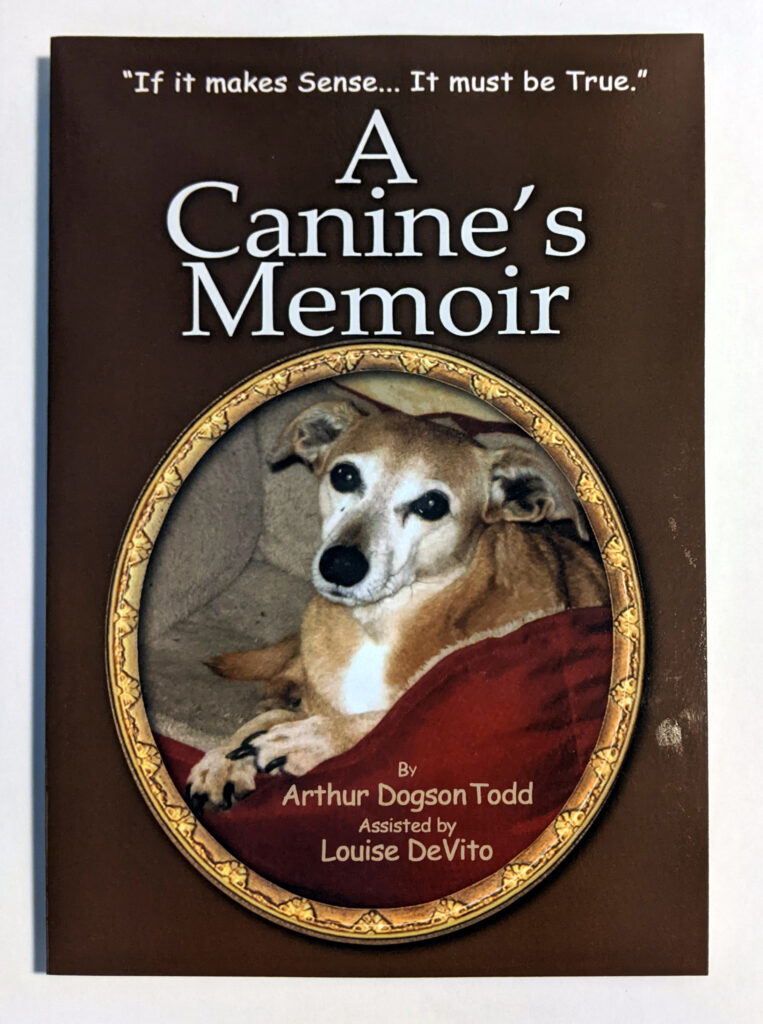 A wonderful collection of witty, smart, spirited thoughts from a dog living on a farm. As a self-described "pure pup," Arthur Dogson Todd is not your normal writer. Based on actual events and his clever take on life, Arthur's stories provide quotable quotes, fun plays-on-words, and lively images of all sorts of battles…even some within himself. With his naïve nature and idealism intact, he runs into unfairness, misunderstanding, and even combat. Arthur has a lasting place as a charming, energetic, and lovable canine who strives to make his world fair and just with dignity and happiness for all. 193-page paperback. A perfect gift for all lovers.
PRICE: $6.00 (TEN remaining)
---
Adopt Me Collar
Let everyone know that the dog you are walking is looking for its furever home! Our ADOPT ME Collar from Max & Neo is an extremely durable, heavy-duty nylon collar with a locking nylon clasp that prevents accidental releasing of the latch when grabbing the collar. The actual colors are bright yellow "Adopt Me" lettering printed onto a purple background. The collar is 2mm thick and 1″ wide, fitting dogs with necks 14.5 – 19.5″.
PRICE: $8.00 (ONE remaining)
---
Live Long Bandana
Put words in your dog's mouth! "Live Long & Foster" bandanas let them offer a friendly greeting while saluting the good works of rescue and foster care. The triangular shape is 20″ along the long edge.
PRICE: $1.00 (ONE remaining)
---
Camo Bandana
Your dog will be the most stylish in the neighborhood when he or she sports a camo bones bandana. These fun bandanas are carefully handmade, with double layered fabric and fully stitch edging to prevent fraying and assure long-lasting wear. Available only in "Small" (long edge 17-19″).
PRICE: $1.00 (FOUR remaining)
---