Limited quantities are available of the items below.
Shipping/handling will be charged at check out based on total order weight. Shipping to continental USA only.

Quick links to other ReTail Shop pages:
Dog Toys & Gear * Giftables & Signage
---
Holiday Ornaments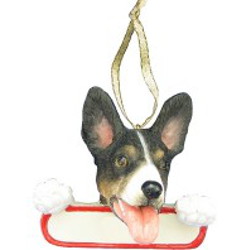 Hand-painted ornaments with life-like detail will provide enjoyment for season after season. They are great for accessorizing holiday gifts to loved ones or decorating your home or office. The "RT with dangly legs" ornament is approximately 3 x 4-1/2″ and can be personalized on the large white bow. The "RT head" ornament is approximately 2-1/2 x 2-1/2 x 1-1/2″ and can be personalized on the sign that he is holding.
CLEARANCE PRICE $3.00 each

---
---
Bandana
Let your dog show his/her appreciation for the organization who saved his/her life. Available in pink. We have just one bandana remaining and it is on clearance because it has a couple of little stains along the long edge of the bandana (hidden when it is tied around a dog's neck).

CLEARANCE PRICE $1.00
Leash Sleeves
As a practical alternative to bandanas, announce your dog's status with a convenient leash sleeve! At 2″ wide and 10-1/2″ long, it will slide over any leash and really stand out when you're out and about, proclaiming your message on both sides.
CLEARANCE PRICE $1.00
---