Limited quantities are available of the items below.
Shipping/handling will be charged at check out based on total order weight. Shipping to continental USA only.

Quick links to other ReTail Shop pages:
Dog Toys & Gear * Giftables & Signage
---
K9 Flyers
The next generation of flying discs for dogs, the K9 Flyer soars through the air with ease and will provide your dog with hours of catching and retrieving fun. Rugged and stretchable, tear- and puncture-resistant, and easy to pick up, the K9 Flyer from Ruff Dawg is the toy of choice wherever you go. Plus it is gentle on teeth and gums. The K9 Flyer is 9.5″ diameter, weighs 9 oz., and comes in a variety of colors with a "spin-art" design around the perimeter.
CLEARANCE PRICE $2.50 each
---
Rattie Signs
Mark your territory! These high-visibility signs are durable, sun-resistant, and weather-resistant, printed on lightweight but tough polyethylene plastic for long-lasting indoor or outdoor use. Measuring approx. 11″ x 11″, the sign is great for fence gates, mailbox, or anywhere you want to alert people to your Rattie.
CLEARANCE PRICE: $3.00 each
---
Holiday Ornaments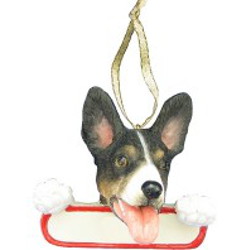 Hand-painted ornaments with life-like detail will provide enjoyment for season after season. They are great for accessorizing holiday gifts to loved ones or decorating your home or office. The "RT with dangly legs" ornament is approximately 3 x 4-1/2″ and can be personalized on the large white bow. The "RT head" ornament is approximately 2-1/2 x 2-1/2 x 1-1/2″ and can be personalized on the sign that he is holding.
CLEARANCE PRICE $3.00 each

---
Holiday Collars
Your dog will be the best dressed pooch at every holiday outing and get-together when he or she dons a festive collar this season! Available in two styles: red "flower" on plaid collar and plaid jingle bell collar. Both styles are available in size M/L, which fits neck 14-20″.
CLEARANCE PRICE $1.00 each

---
Bandana
Let your dog show his/her appreciation for the organization who saved his/her life. Available in pink. We have just one bandana remaining and it is on clearance because it has a couple of little stains along the long edge of the bandana (hidden when it is tied around a dog's neck).

CLEARANCE PRICE $1.00
Leash Sleeves
As a practical alternative to bandanas, announce your dog's status with a convenient leash sleeve! At 2″ wide and 10-1/2″ long, it will slide over any leash and really stand out when you're out and about, proclaiming your message on both sides.
CLEARANCE PRICE $1.00
---