Shipping/handling will be charged at check out based on total order weight. Shipping to continental USA only.

Quick links to other ReTail Shop pages:
Apparel * Giftables * Signage * CLEARANCE SALE
Silicon Travel Pet Bowl
Perfectly sized for Rat Terrier meals, these collapsible silicon travel bowls are 5.1 inches across and expand to 2.1 inches deep. Each bowl is top rack dishwasher safe, folds flat for travel and comes with a handy carabiner (remove for bowl washing) to attach to hiking or dog gear for easy access. Never be without a way to easily feed or give water to your dog again!
Price: $3.00
---
New Rattitude Towel
This adorable New Rattitude Logo Towel is the perfect size to keep in your dog travel gear for quick paw clean up needs. At 11 x 17 inches, this towel folds up small and is absorbent and soft. Grab one for your dog travel gear, your golf bag, as a car emergency towel or anywhere small clean ups happen.
Price: $4.00
---
Poop Bag Dispensers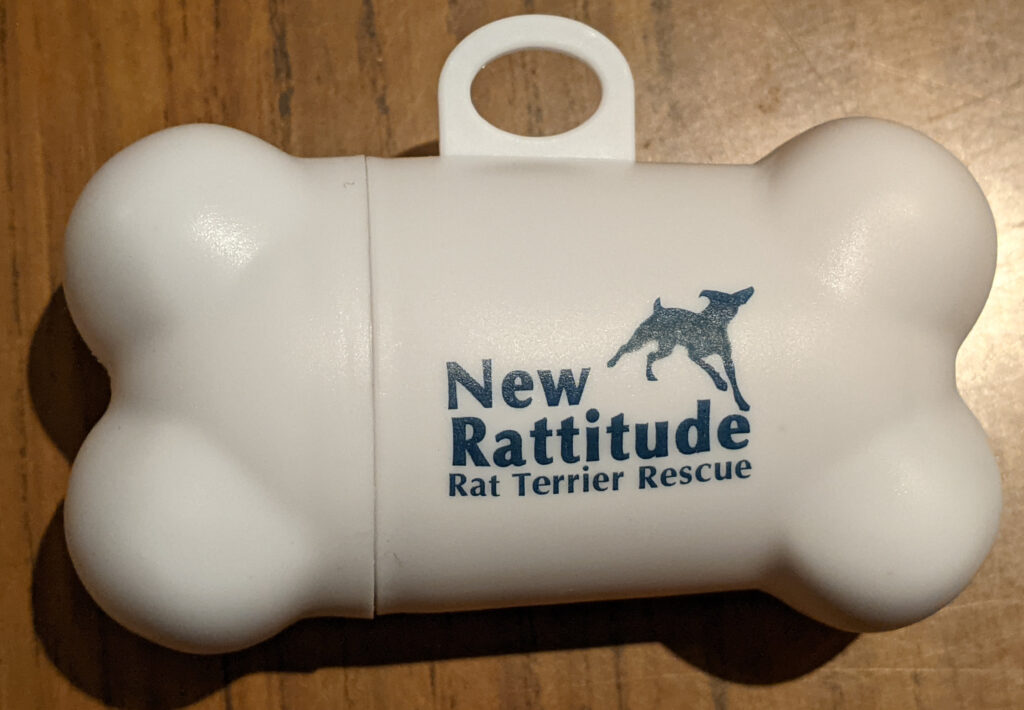 The poop bag dispenser is a non-negotiable accessory for every dog owner. You never want to be that person whose dog just left a gift in someone's yard, only to realize that you forgot to grab poop bags before you left the house. These New Rattitude dispensers are white to complement any leash color, come pre-filled with a 20-bag roll, refill easily with a secure screw-on closure, and are economical enough to have one attached conveniently to each leash.
Price: $4.00
---
Martingale Collars
Martingale Collars from Max and Neo are the most reliable collars you can buy. They are made from very durable, 2 mm thick nylon, with a lockable nylon clasp that makes taking it off and on easy but prevents accidental releasing. Reflective stitching improves nighttime visibility. Has a 5mm thick D-ring for the leash attachment and a separate easy loop holder for tags &/or charms. The Small size (3/4″ wide for 12 – 14″ neck size) is available in black. The Medium size (1″ wide for 14 – 16.5″ neck size) is available in red and green. The Medium/Large size (1″ wide for 16.5 – 19″ neck) is available in teal and black. The Large size (1″ wide for 19 – 25″ neck) is available in red and blue.
Price: $14.00 – 16.00
---
Heavy Duty Leashes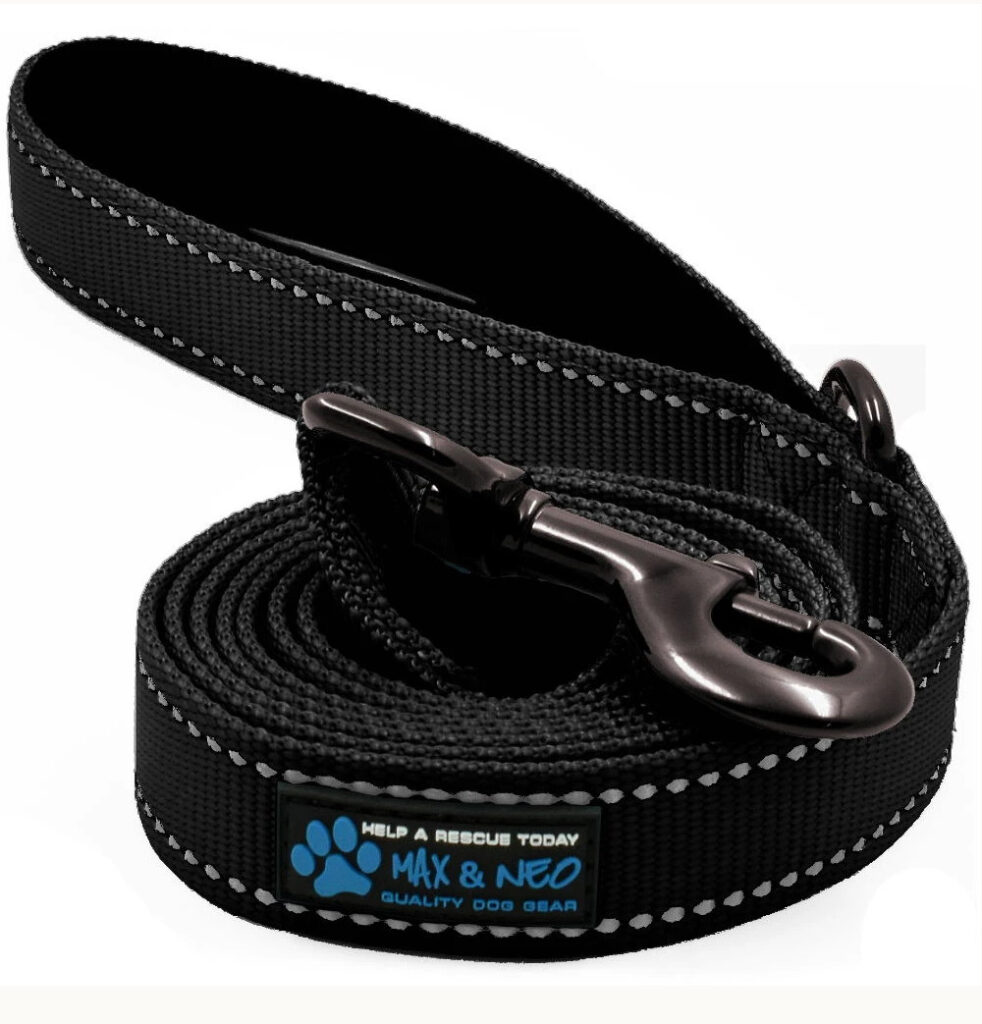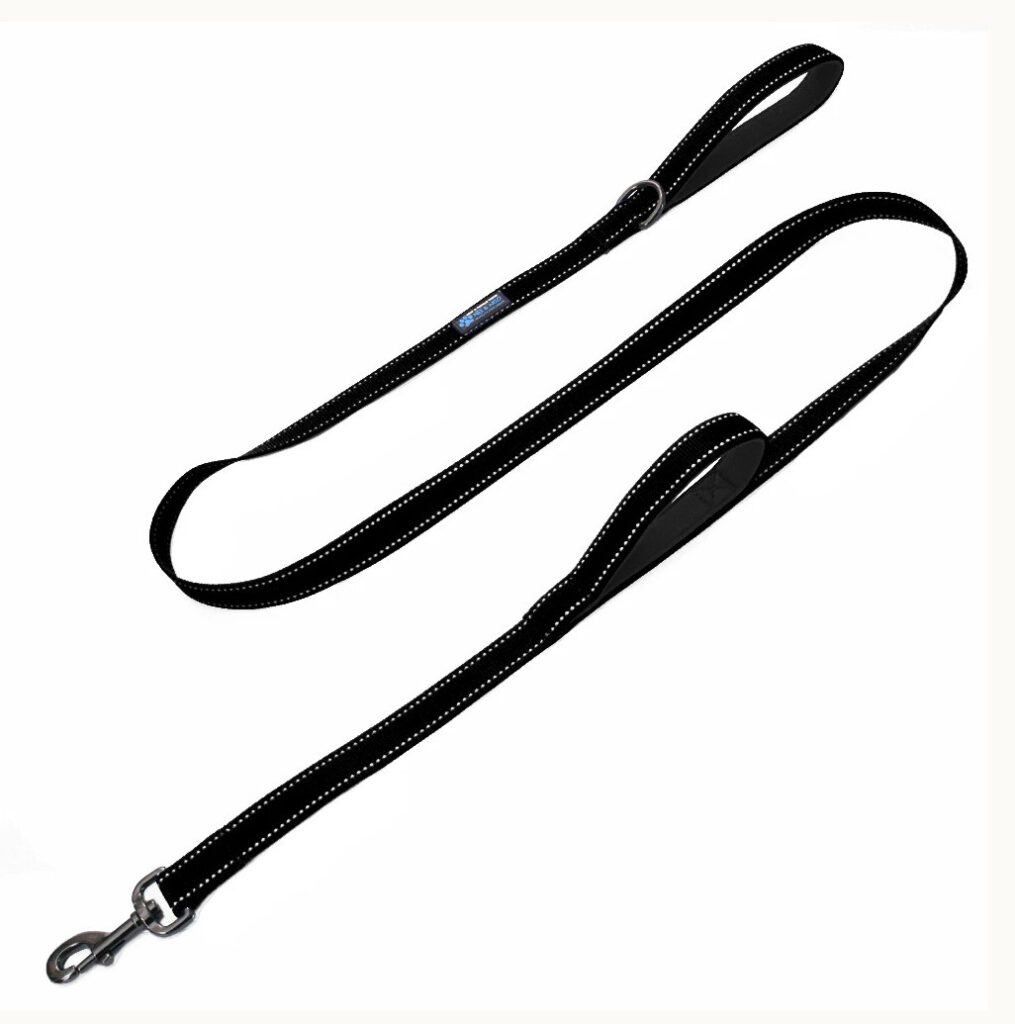 The Max and Neo leash is as high quality as they come! Made from 2mm thick nylon webbing that is a full 1″ wide, with a high quality metal clasp, this 6-foot long leash can accommodate the strongest, largest dog. A padded neoprene handle makes walking comfortable for the handler and a convenient D-ring lets you easily clip on poop bags or other accessories. It also features reflective stitching on both sides for nighttime visibility. The Double Handle style has s second padded handle 18″ from the clasp to allow you to keep the dog close in traffic, obedience class, or around others. Available in teal, black, and blue.
Price: $14 for the single handle style; $16 for the double handle style
---
Clickers
Hand-held clickers are a great training tool! Recommended by Terry Ryan, world acclaimed international dog trainer and speaker, this proven and well-respected method of modifying your dog's behavior will enhance her training experience, quickly teaching her to repeat behaviors that lead to rewards. The box-style clicker is sturdy and easy to manipulate. An optional attached wrist coil gives added convenience.
PRICE: $2.00 alone or $3.00 with attached wrist coil

---
New Rattitude Bandanas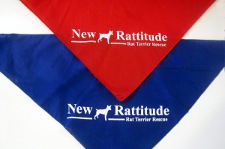 "New Rattitude Rat Terrier Rescue" bandanas let your dog showcase your support for the work of New Rattitude. The triangular shape is 20″ along the long edge. Available in Red or Blue.
PRICE: $2.00 each
---
CONTINUE SHOPPING
Apparel * Giftables * Signage * CLEARANCE SALE