Shipping/handling will be charged at check out based on total order weight. Shipping to continental USA only.

Quick links to other ReTail Shop pages:
Giftables * Signage * CLEARANCE SALE
Poop Bag Dispensers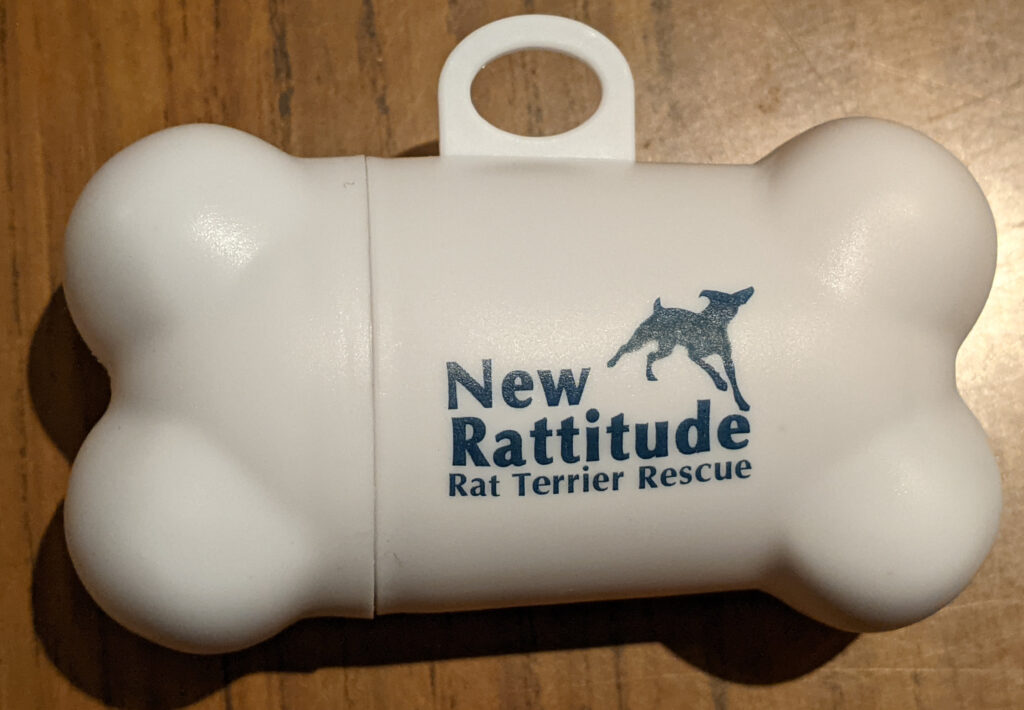 The poop bag dispenser is a non-negotiable accessory for every dog owner. You never want to be that person whose dog just left a gift in someone's yard, only to realize that you forgot to grab poop bags before you left the house. These New Rattitude dispensers are white to complement any leash color, come pre-filled with a 20-bag roll, refill easily with a secure screw-on closure, and are economical enough to have one attached conveniently to each leash.
Price: $4.00
---
Martingale Collars
Martingale Collars from Max and Neo are the most reliable collars you can buy. They are made from very durable, 2 mm thick nylon, with a lockable nylon clasp that makes taking it off and on easy but prevents accidental releasing. Reflective stitching improves nighttime visibility. Has a 5mm thick D-ring for the leash attachment and a separate easy loop holder for tags &/or charms. The Small size (3/4″ wide for 12 – 14″ neck size) is available in red, black, and teal. The Medium size (1″ wide for 14 – 16.5″ neck size) is available in red and green. The Medium/Large size (1″ wide for 16.5 – 19″ neck) is available in teal and black. The Large size (1″ wide for 19 – 25″ neck) is available in red and blue.
Price: $14.00 – 16.00
---
Adopt Me Collar
Let everyone know that the dog you are walking is looking for its furever home! Our ADOPT ME Collar from Max & Neo is an extremely durable, heavy-duty nylon collar with a locking nylon clasp that prevents accidental releasing of the latch when grabbing the collar. The actual colors are bright yellow "Adopt Me" lettering printed onto a purple background. The collar is 2mm thick and 1″ wide, fitting dogs with necks 14.5 – 19.5″.
Price: $12.00
---
Heavy Duty Leashes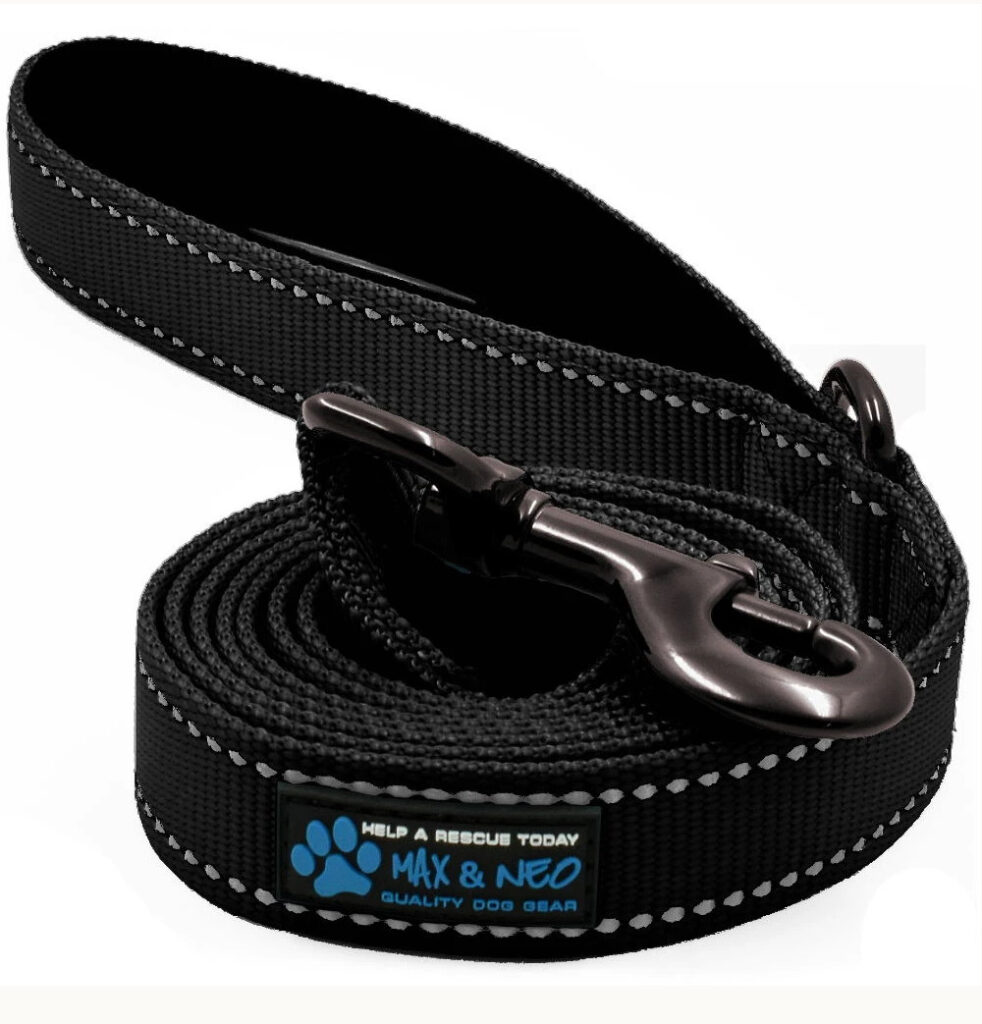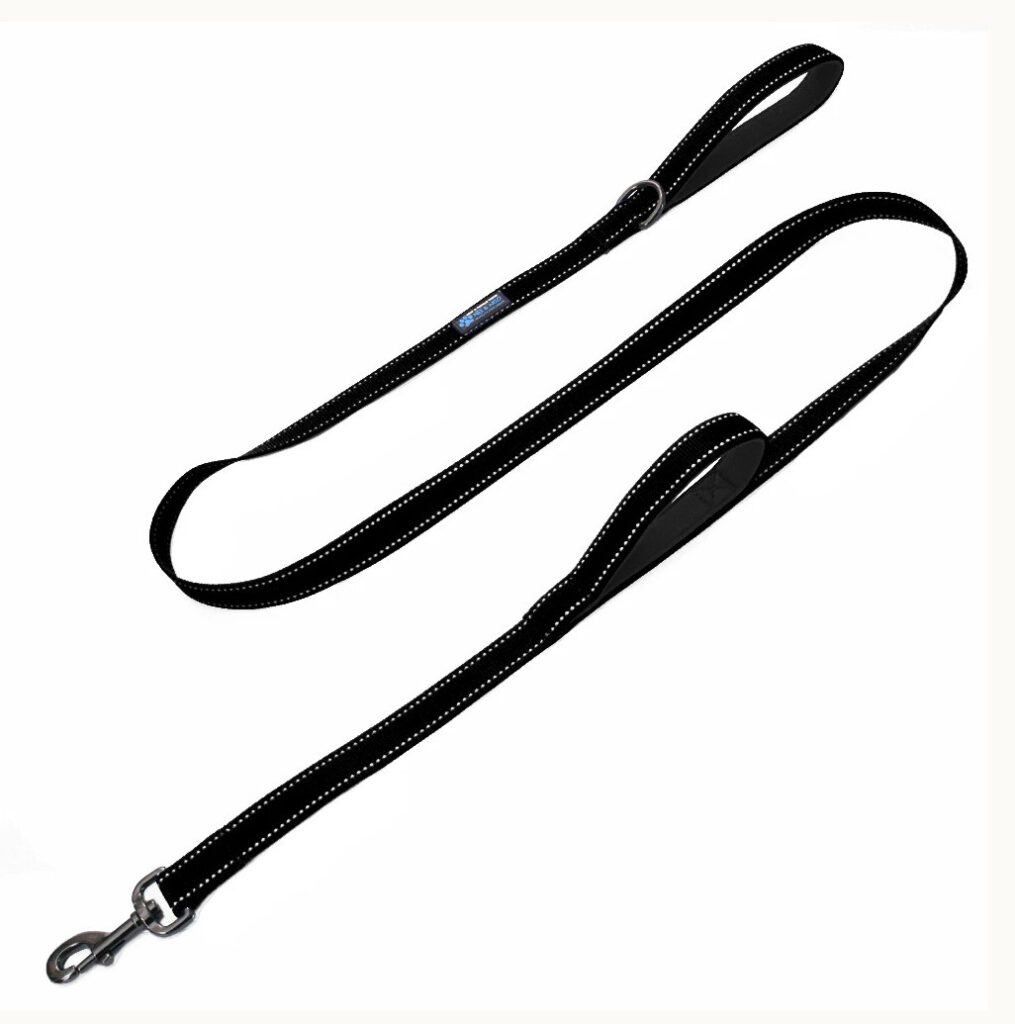 The Max and Neo leash is as high quality as they come! Made from 2mm thick nylon webbing that is a full 1″ wide, with a high quality metal clasp, this 6-foot long leash can accommodate the strongest, largest dog. A padded neoprene handle makes walking comfortable for the handler and a convenient D-ring lets you easily clip on poop bags or other accessories. It also features reflective stitching on both sides for nighttime visibility. The Double Handle style has s second padded handle 18″ from the clasp to allow you to keep the dog close in traffic, obedience class, or around others. Available in teal, black, and blue.
Price: $14 for the single handle style; $16 for the double handle style
---
Nylon Slip Leads
The Max and Neo Slip Lead is made from 1/2″ diameter, high quality reinforced nylon rope with integrated reflective striping for great nighttime visibility. The connection points are double stitched for extra reinforcement and also wrapped in genuine leather to give it maximum durability. All metal parts haven attractive gunmetal finish to make this slip lead the best one that you've ever purchased. The leash is black, approx. 5 feet long when in use (6.5 feet total length).
Price: $15.00
---
Clickers
Hand-held clickers are a great training tool! Recommended by Terry Ryan, world acclaimed international dog trainer and speaker, this proven and well-respected method of modifying your dog's behavior will enhance her training experience, quickly teaching her to repeat behaviors that lead to rewards. The box-style clicker is sturdy and easy to manipulate. An optional attached wrist coil gives added convenience.
PRICE: $2.00 alone or $3.00 with attached wrist coil

---
Message Bandanas
Put words in your dog's mouth! "Live Long & Foster" bandanas let them offer a friendly greeting while saluting the good works of rescue and foster care! The triangular shape is 20″ along the long edge. Available in Navy Blue. The "New Rattitude Rat Terrier Rescue" bandana shows support for the work of New Rattitude. The triangular shape is 20″ along the long edge. Available in Red or Blue.
PRICE: $2.00 each
---
Patterned Bandanas
Your dog will be the most stylish in the neighborhood when he or she sports a camo bones bandana. These fun bandanas are carefully handmade, with double layered fabric and fully stitch edging to prevent fraying and assure long-lasting wear. Available only in "Small" (long edge 17-19″).
PRICE: $2.00 each
---
CONTINUE SHOPPING
Giftables * Signage * CLEARANCE SALE