Shipping/handling will be charged at check out based on total order weight. Shipping to continental USA only.

Quick links to other ReTail Shop pages:
Dog Toys & Gear * Giftables & Signage * CLEARANCE SALE
---
New Rattitude 2020 T-shirts
Rat Terriers! Need we say more? All that spunk and attitude speaks for itself in this exclusive new T-shirt design. The unisex T-shirt comes in blue dusk and the ladies style, which has a more feminine cut and a slightly narrower collar, comes in violet. Both styles are are Gildan Ultra Cotton with double-needle stitching throughout and a seamless collar. Limited color/size availability remaining, as shown below.
PRICE: $12.00 each
New Rattitude 2019 T-shirts
It's all about that "rattitude"! Since our very inception, New Rattitude has recognized the special spunky temperament of our favorite breed and it's time we let the whole world know with our newest T-shirt design. These soft, durable jerseys are made of pre-shrunk 50/50 cotton/polyester with ribbed collar, shoulder-to-shoulder taping; and double-needle stitching throughout. The color is a lovely Columbia Blue. Still available in size XL and 3XL only.
PRICE: $12.00 each
---
New Rattitude T-Shirts
An attentive Rattie is all ready to jump out and play in this exclusive New Rattitude T-shirt! The shirt is made of 50% pre-shrunk cotton and 50% polyester in a beautiful jade color. The seamless collar, taped neck and shoulders with double-needle stitching, and good moisture-wicking properties combine to make it one of the softest, most comfortable T-shirts you will own. Limited sizes available; see below.
PRICE: $12.00 each
---
Rattie Necklaces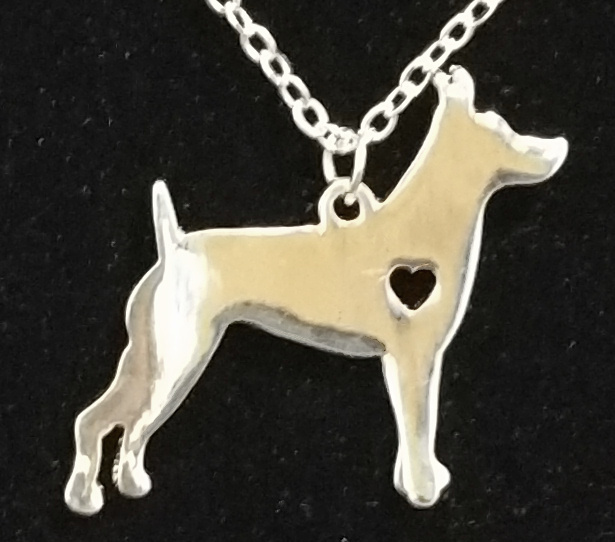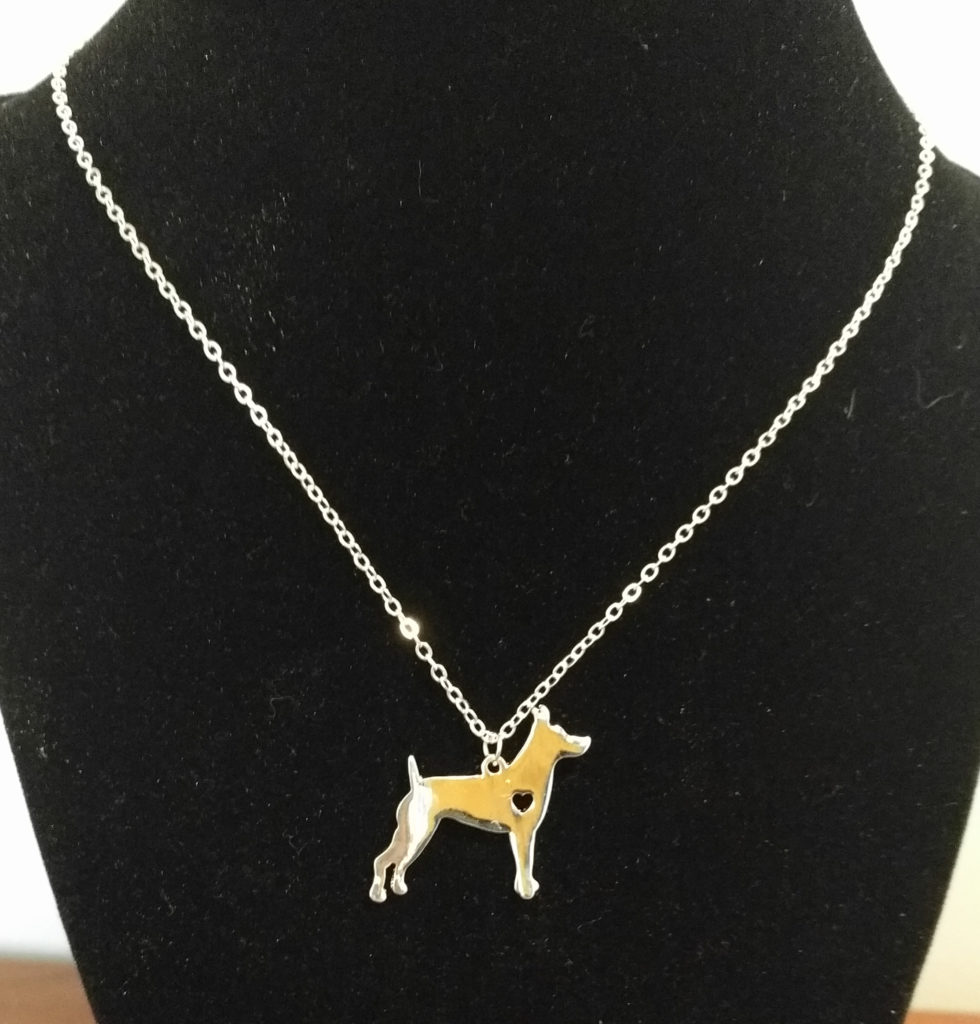 Wear your love for your Rattie over your heart with this sterling silver necklace. The alert little Rattie pendant measures about 1″ by 1″ on an 18″ chain with a claw clasp.
PRICE: $15.00 each
New Rattitude Visor Caps
Show off New Rattitude's custom embroidered design on these khaki colored visor caps. Made of 100% cotton, the 6-panel caps have embroidered eyelets for breathability plus matching fabric undervisor, sweatband, and adjustable velcro closure that ensures that one size really does fit all. The visor is super stitched for long-lasting durability.

PRICE: $12.00 each
---
Rat Terrier Car Coasters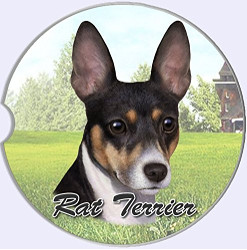 Rattie car coasters, perfectly sized (2-1/2″ diameter) to fit the cup holders in your car, truck, van, or boat, are more than just an attractive decoration. They are also very practical. Made of stoneware, these durable coasters provide continuous absorption to keep your vehicle's cup holders dry from beverage drips and condensation. They have a convenient finger slot on the side for easy removal.
PRICE: $3.50
---
Rat Terrier Keychains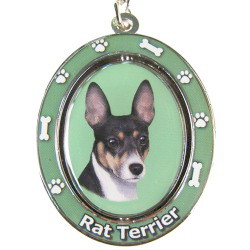 Everyone needs to carry keys — so why not do it with style? The middle part of this sturdy keychain swivels around with a picture of a tri-colored Rattie dog on both sides, surrounded by a bone and paw print frame. Dimensions: 1-1/2 x 1-3/4″ with 4-1/4″ chain.
PRICE: $6.00
---
Rat Terrier Magnetic Notepads
Don't let your important ideas, shopping lists, and to-do reminders be quickly and easily forgotten. Use these Rat Terrier die-cut sticky notes to keep them easily visible. Notepads include 50 sheets of self-adhesive paper that will stick about anywhere, and a large magnetic back. Approximately 5×4.75″.
PRICE: $3.50
---
Rattie Yard Signs
Warn off intruders with these novelty high-visibility signs. Durable and weather-resistant, perfect for outdoor or indoor use. The sign measures 11×11″, printed on .04 gauge high-impact polystyrene.
PRICE: $9.00 each
---
Rattie Decals
All-Weather Custom Decals are perfect for automobiles or any other surface you choose to decorate. Sturdy and very well made, these decals will last but can be easily removed if so desired at a later date. Decals are approx 4.5″ diameter. These die-cut styles (shown on dark background) are white against whatever color you apply it to.
PRICE: $7.00 each
---
New Rattitude Logo Vinyl Window Clings
Show your support! Buy a New Rattitude logo window cling and get the word out about rescue!
The vinyl cling can be applied to virtually any smooth surface, such as glass, plexiglas, painted surfaces, fiberglass, some plastics, walls, autos, metal, tiles, etc. (Do not apply to fresh paint.) This vinyl is fade resistant and weatherproof, and won't crack chip or peel. Its average life span is about 6 years with normal outdoor use and much longer indoors. The sticker will not harm the painted surface of your vehicle or leave a residue! However, after a sticker sits on a vehicle for many years, the paint underneath will remain brighter and shinier, as it will be protected by the vinyl instead of exposed to the weather conditions. Size: approx 2.5×8″ NOTE: Window cling is shown against a black background.
PRICE: $2.00 each
---
New Rattitude Stickers
Sealed with a Rattie! Your cards and letters will be finished off right with a charming little "www.NewRattitude.org" sticker! Adds a nice touch to Adoption Folders, Thank You notes, gift bags, and more. Each sticker is approx. 1-1/2″ diameter. Sold by the sheet; 24 stickers per sheet.
PRICE: $3.00 per sheet of 24
---
Dog Magnets
Bone-Shaped Magnet

What better way to proclaim your love for your best friend than with an indoor/outdoor magnet! This 7 x 2″ bone-shaped magnet is waterproof and screen printed with UV resistant ink. Display it on your car or truck, mailbox, refrigerator, filing cabinet, or any flat magnetic metal surface.
PRICE: $5.00 each
Round Magnet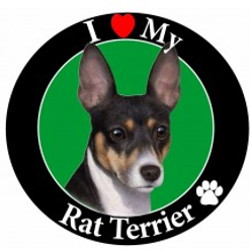 Here's another option for speaking your mind about your beloved rattie in bright fade-resistant color. Stick it easily to any magnetic surface. Approximately 5″ diameter.
PRICE: $3.50 each
Paw-Shaped Magnets
It's easier than getting on a soapbox! Easy-on, easy-off magnets do your speaking for you. These high quality, UV coated car magnets are great for cars, trucks, refrigerators, mailboxes, lockers or any magnetic surface. Approximately 5×5″.
PRICE: $3.50 each
---
CONTINUE SHOPPING
Dog Toys & Gear * Giftables & Signage * CLEARANCE SALE