Shipping/handling will be charged at check out based on total order weight. Shipping to continental USA only.

Quick links to other ReTail Shop pages:
Dog Gear * Signage * CLEARANCE SALE
---
---
---
New Rattitude T-shirts
Let's Play! Who can resist the spunk of a playful Rat Terrier? New Rattitude's exclusive 2022 design comes on a 100% pre-shrunk cotton T-shirt in dark blue or pink. The dark blue shirt is a standard unisex cut, while the pink version is in a more fitted ladies' cut. The dark blue shirt is available in sizes S, M, L, XL, and 3XL. The pink shirt is available in sizes S, M, and 2XL.
Price: $17.00 each
---
Stand proud with a T-shirt honoring the breed we all love. This exclusive New Rattitude design features the lively, loyal, loving rattie on a 100% pre-shrunk cotton shirt. Available in "sand" color in size Large only.
Price: $15.00 each
---
Pocket Flashlights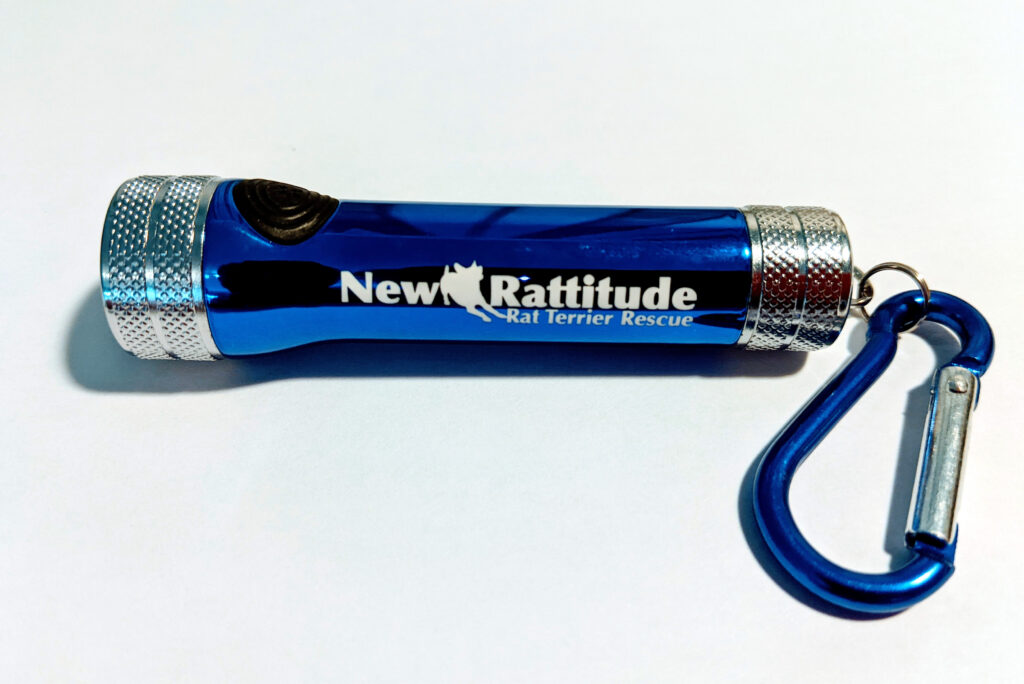 Shine a big light with a little flashlight. These handy LED lights with the New Rattitude logo are perfect for stashing in a purse or glovebox, or use the carabiner to attach to keyring or dog leash for really convenient accessibility. They are also great as thoughtful stocking stuffers!
Price: $4.00
---
---
Rattie Notecards
You can't go wrong with notecards that feature adorable Rat Terriers! These 4-1/4″ x 5-1/2″ cards are adorned with exclusive, full color photographs taken by New Rattitude supporters in our 2020 photo contest. Each notecard set includes ten unique cards with blank interiors, ready for your personalized greeting, plus ten white envelopes.
Price: $9.00 each set
---
New Rattitude Note Pads
All your note writing and list making will now have a special flair, promoting Rattie adoption ("Make Your Life Merrier, Adopt a Rat Terrier"). The 5-1/2 x 8-1/2″ sheets come 50 to a pad with a color New Rattitude logo.
Price: $6.00 each
---
Rat Terrier Stone Coasters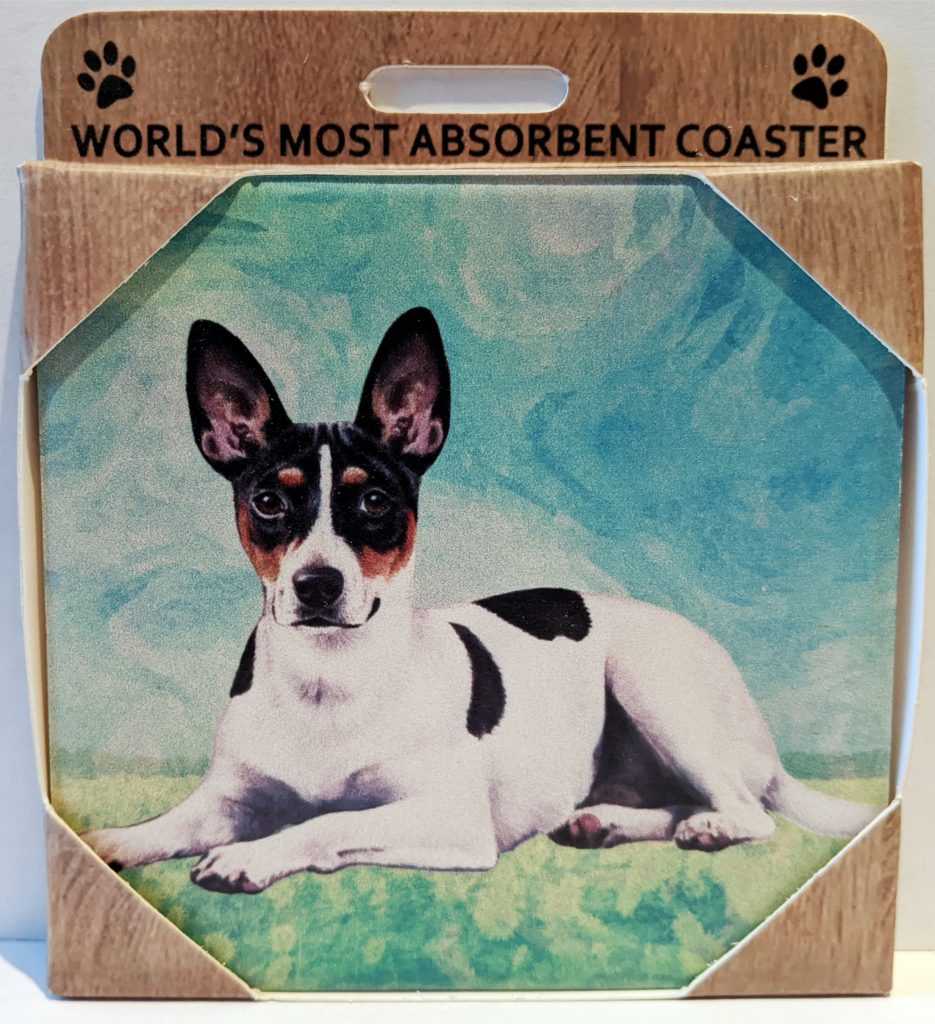 Let this regal Rattie protect your furniture from moisture, rings, and scratches! These 4" x 4" stone coasters are super absorbent (In fact, they are billed as "The World's Most Absorbent Coaster"!) and have a cork backing to prevent slipping. Great for home, office, or as a gift. Sold as a set of 4 coasters.
PRICE: $14.00 for a set of 4 coasters
---
Rat Terrier Car Coasters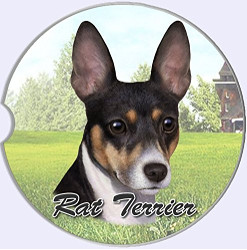 Rattie car coasters, perfectly sized (2-1/2″ diameter) to fit the cup holders in your car, truck, van, or boat, are more than just an attractive decoration. They are also very practical. Made of stoneware, these durable coasters provide continuous absorption to keep your vehicle's cup holders dry from beverage drips and condensation. They have a convenient finger slot on the side for easy removal.
PRICE: $3.50 each
---
---
Rattie Necklaces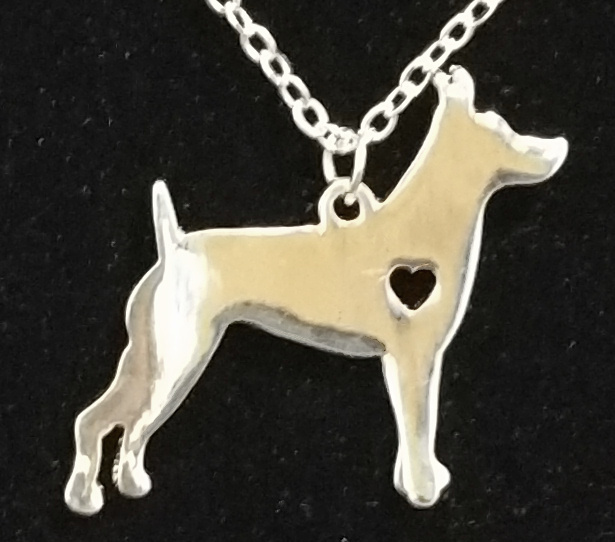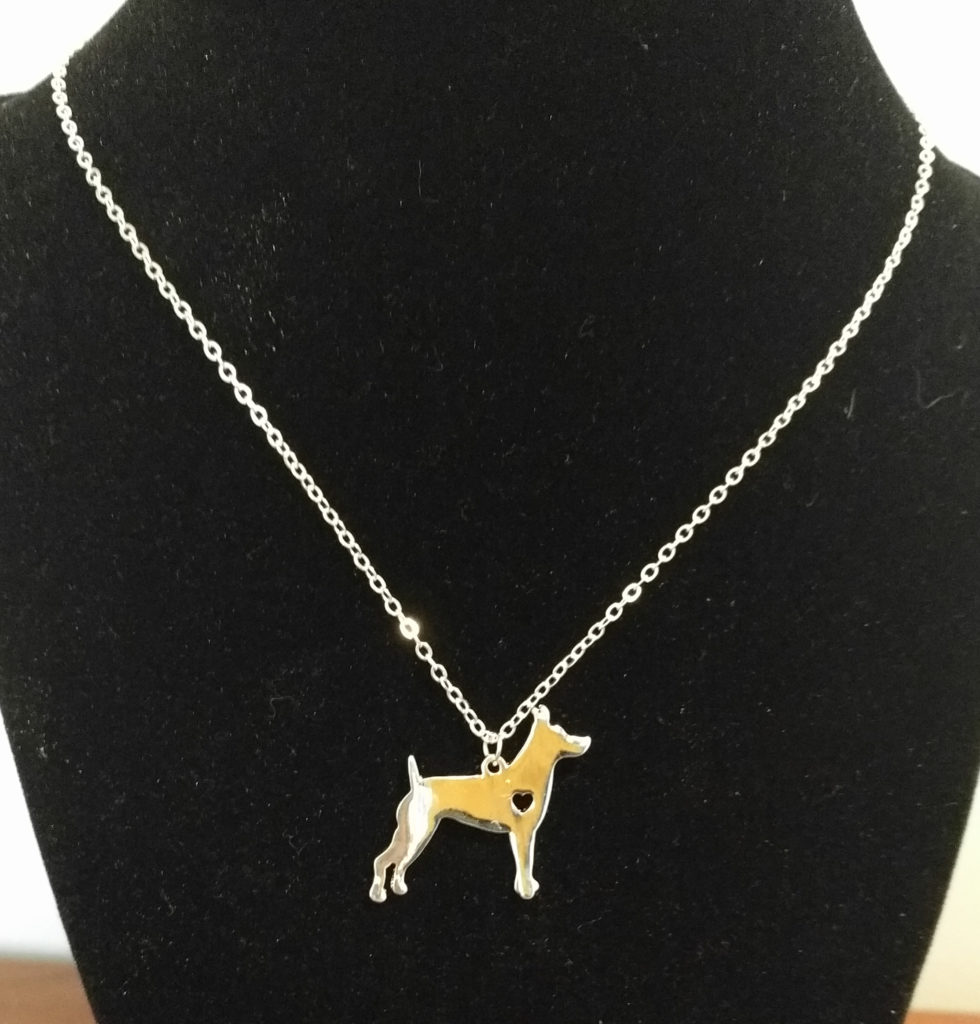 Wear your love for your Rattie over your heart with this sterling silver necklace. The alert little Rattie pendant measures about 1″ by 1″ on an 18″ chain with a claw clasp.
PRICE: $15.00 each
---
Drawstring Tote Bags
Keep your gear close and secure, the comfortable and convenient way! The minimal, lightweight design of this drawstring bag lets you throw in your stuff and go, with a spacious (13 x 16.5") compartment perfect for workout gear, wallet, phone, water bottle, and other essentials. Convenient pull string cords provide quick and secure closure, then double as comfortable and lightweight shoulder straps for over-the-shoulder or backpack carry. Made from water-resistant 80G non-woven polypropylene.
Price: $3.00
---
New Rattitude Cloth Bags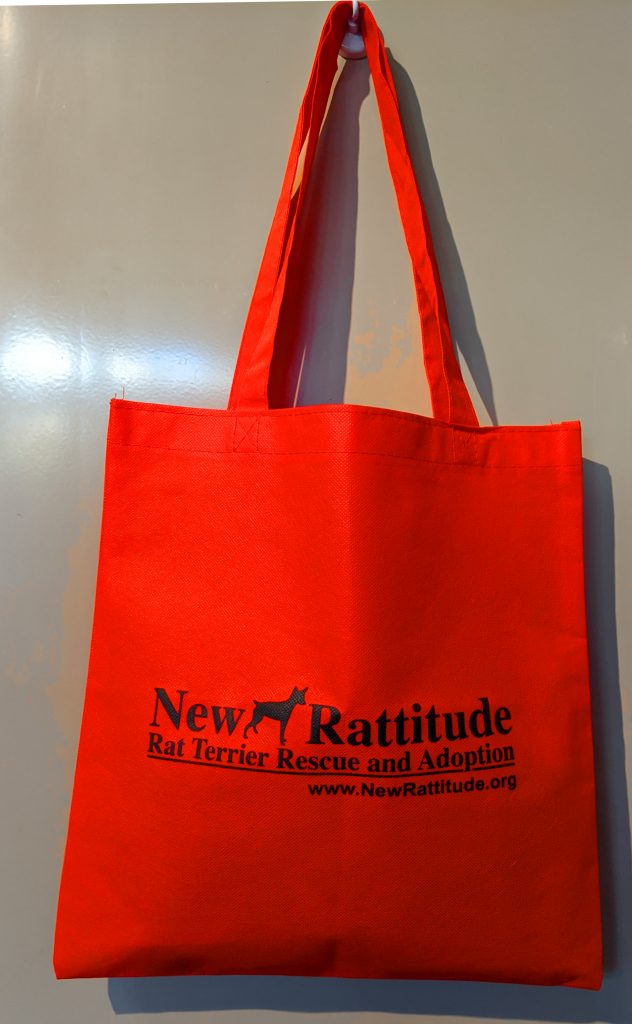 Using eco-friendly cloth bags for your shopping may not save the planet… but it helps. These washable, reusable 13×13″ totes are also the quick and easy way to wrap up Christmas gifts, carry your lunch or books, and promote rescue and adoption!
PRICE: $2.00
Rat Terrier Socks
Adorable Ratties give fun to your feet even when you are hard at work. These premium quality lightweight crew socks come in two unisex styles: The first is Rattie heads and bodies on a light gray background with a criss-cross pattern, and the second is Rattie heads and paw prints on a light brown/taupe background with taupe toes, heels, and top band. Both styles are machine washable, made of a soft cotton blend for breathability and absorbability plus durability and a perfect fit. The gray style (75% cotton, 20% nylon, 5% spandex) comes in two sizes: "medium 9-11" (equivalent to women's shoe size 5-10) or "large 10-13" (equivalent to men's shoe size 8-12.5). The brown/taupe style (65% cotton, 25% polyurethane, 10% polyester) is "one size fits most," generally accommodating women's size 5-12 or men's up to size 10.
Price: $10.00
---
A Canine's Memoir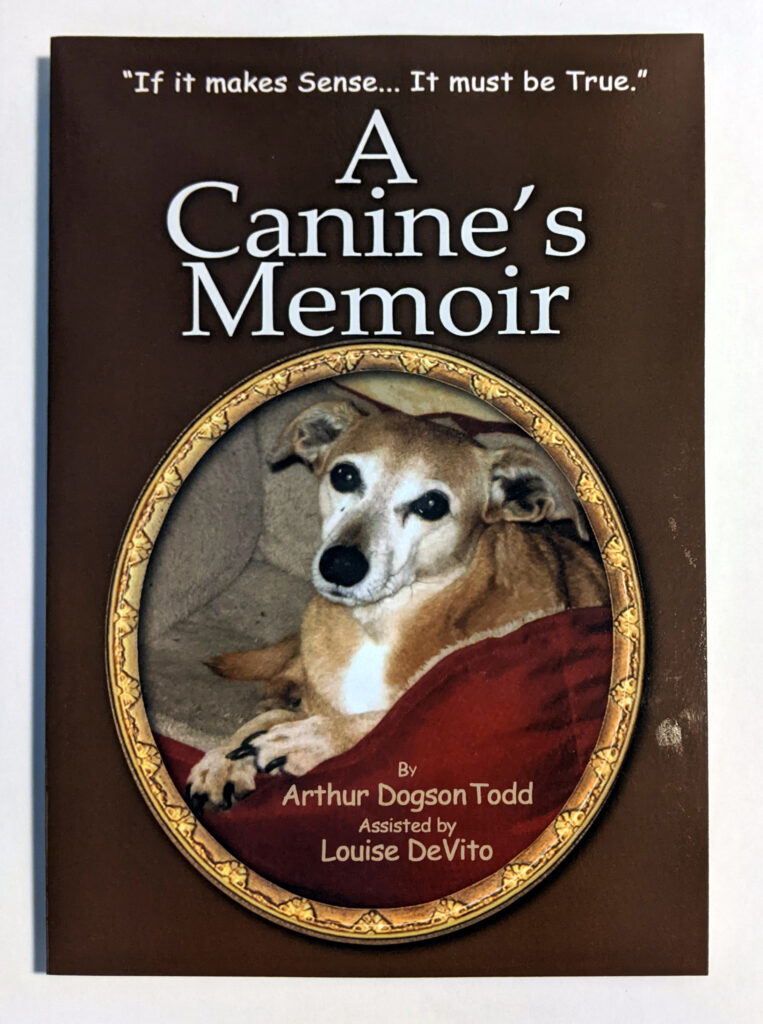 A wonderful collection of witty, smart, spirited thoughts from a dog living on a farm. As a self-described "pure pup," Arthur Dogson Todd is not your normal writer. Based on actual events and his clever take on life, Arthur's stories provide quotable quotes, fun plays-on-words, and lively images of all sorts of battles…even some within himself. With his naïve nature and idealism intact, he runs into unfairness, misunderstanding, and even combat. Arthur has a lasting place as a charming, energetic, and lovable canine who strives to make his world fair and just with dignity and happiness for all. 193-page paperback. A perfect gift for all lovers.
Price: $10.00
---
Rat Terrier Keychains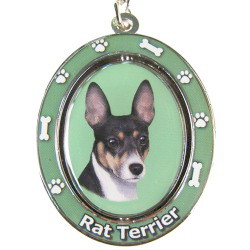 Everyone needs to carry keys — so why not do it with style? The middle part of this sturdy keychain swivels around with a picture of a tri-colored Rattie dog on both sides, surrounded by a bone and paw print frame. Dimensions: 1-1/2 x 1-3/4″ with 4-1/4″ chain.
PRICE: $6.00
---
Rat Terrier Gel Pens
Put your thoughts on paper while you promote your love for Ratties with our refillable, smooth-writing gel pen. These adorable pens make writing a fun and playful experience. Each pen is decorated with artwork featuring a Rat Terrier with paw prints. Each pen comes with an extra ink refill cartridge.
PRICE: $4.00
---
Rat Terrier Magnetic Notepads
Don't let your important ideas, shopping lists, and to-do reminders be quickly and easily forgotten. Use these Rat Terrier die-cut sticky notes to keep them easily visible. Notepads include 50 sheets of self-adhesive paper that will stick about anywhere, and a large magnetic back to keep the pad readily accessible. Approximately 5×4.75″.
PRICE: $3.50
Christmas Ornaments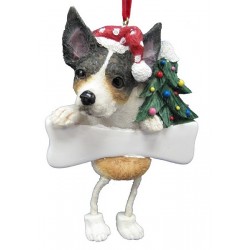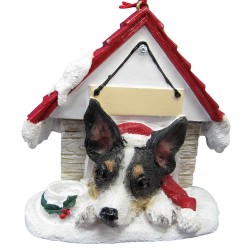 It's never too early to prepare for Christmas! Hand crafted from stone resin and realistically painted, these delightful Rat Terrier ornaments add an adorable flair to Christmas trees, wreaths, and stockings. The RT in Wreath ornament, measuring 3-1/2″ in diameter, and the Dangly Legs ornament, measuring 4.5 x 3.5 x 1″, can each start out as a beautiful and unique gift tag by writing the recipient's name on the nameplate with a sharpie. The RT in the Doghouse ornament measures 3 x 3 x 1″ and can be personalized by writing your pup's name on the nameplate then, after the holidays, you can use the magnetic back to keep your doggie on the refrigerator all year long. The Nutcracker Soldier ornament, measuring approx. 5 x 1.5 x 1.5″ can be hung from the loop on his hat or stood on a mantle or table. The RT in a Stocking ornament measures 3 x 2.5 x 1″, with the tiny Rattie presented in a soft fabric stocking. All ornaments come individually gift boxed.
PRICE: $10 for the Nutcracker Soldier and RT in Wreath
$9 for the other styles
---
---
---
---
CONTINUE SHOPPING
Dog Gear * Signage * CLEARANCE SALE