Shipping/handling will be charged at check out based on total order weight. Shipping to continental USA only.

Quick links to other ReTail Shop departments:
Dog Gear * Apparel * Signage * CLEARANCE SALE

---
2024 New Rattitude Calendar
It's HERE! Be the first kid on the block to get the 2024 New Rattitude Calendar. This annual date tracker is a beautiful way to celebrate our beloved rat terriers while supporting New Rattitude's mission. Buy one for home, for office, and for your friends. Great Christmas gift for anyone in your life that loves Rat Terriers!
For a preview of this year's pages visit: https://newrattitude.org/about/events/photo-contest/
Price: $15.00
---
Rattie Notecards
You can't go wrong with notecards that feature adorable Rat Terriers! These 4-1/4″ x 5-1/2″ cards are adorned with exclusive, full color photographs taken by New Rattitude supporters in our 2020 photo contest. Each notecard set includes ten unique cards with blank interiors, ready for your personalized greeting, plus ten white envelopes.
Price: $9.00 each set
---
Drawstring Tote Bags
Keep your gear close and secure, the comfortable and convenient way! The minimal, lightweight design of this drawstring bag lets you throw in your stuff and go, with a spacious (13 x 16.5") compartment perfect for workout gear, wallet, phone, water bottle, and other essentials. Convenient pull string cords provide quick and secure closure, then double as comfortable and lightweight shoulder straps for over-the-shoulder or backpack carry. Made from water-resistant 80G non-woven polypropylene.
Price: $3.00
---
New Rattitude Cloth Bags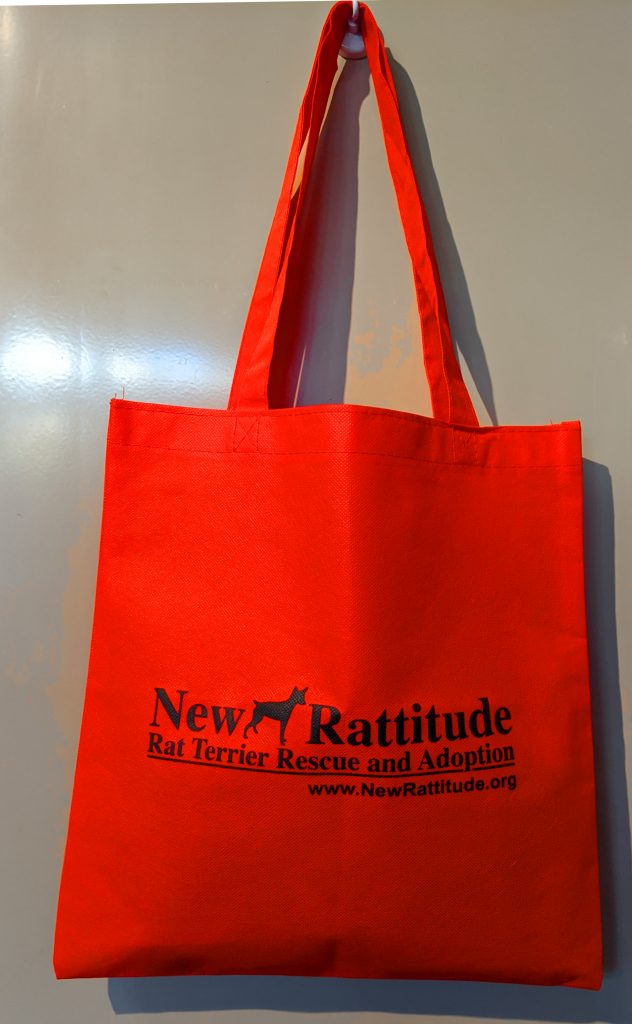 Using eco-friendly cloth bags for your shopping may not save the planet… but it helps. These washable, reusable 13×13″ totes are also the quick and easy way to wrap up Christmas gifts, carry your lunch or books, and promote rescue and adoption!
PRICE: $2.00
---
---
Rat Terrier Keychains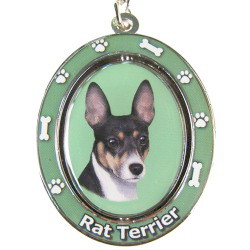 Everyone needs to carry keys — so why not do it with style? The middle part of this sturdy keychain swivels around with a picture of a tri-colored Rattie dog on both sides, surrounded by a bone and paw print frame. Dimensions: 1-1/2 x 1-3/4″ with 4-1/4″ chain.
PRICE: $6.00
---
Rat Terrier Gel Pens
Put your thoughts on paper while you promote your love for Ratties with our refillable, smooth-writing gel pen. These adorable pens make writing a fun and playful experience. Each pen is decorated with artwork featuring a Rat Terrier with paw prints. Each pen comes with an extra ink refill cartridge.
PRICE: $4.00
---
---
CONTINUE SHOPPING
Dog Gear * Apparel * Signage * CLEARANCE SALE