Shipping/handling will be charged at check out based on total order weight. Shipping to continental USA only. 

Quick links to other ReTail Shop pages:
Dog Gear *  Giftables  *   CLEARANCE SALE
---
---
Rattie Welcome Signs
Invite your guests to sit, stay, and relax. These sturdy signs for door or wall hanging measure 5″ x 10″. They are intended for indoor use (not weather resistant).
Price: $7.00 each
---
Die-Cut Decals
All-Weather Custom Decals are perfect for automobiles or any other surface you choose to decorate. Sturdy and very well made, these decals will last but can be easily removed if so desired at a later date. Decals are approx 4.5″ diameter. These die-cut styles (shown on dark background) are white against whatever color you apply it to.
PRICE: $8.00 each
---
Yippie Hippie Bumper Stickers
Peace, Love, Rat Terriers! These super groovy tie-dye colored bumper stickers are also perfectly cool for cars, trucks, mailboxes, gym lockers, or anywhere you want to proclaim your love of ratties. Made from durable vinyl and printed with \UV resistant ink, these all weather stickers will hold up for years. Approximately 9″ x 2.75″.
Price $3.00
---
Magnets
Dishwasher Magnets
This handmade magnet features 2 hand illustrated Rat Terriers on a split background of bubbles and mud. Keep track of the state of the dishes in your dishwasher by simply rotating the magnet to display a clean or dirty dog! Perfect as a Christmas stocking stuffer or a fun and unique gift for any occasion. Magnet measures 2×3″. Note: Please make sure your dishwasher has a magnetic front prior to ordering; magnet will not stick to plastic, aluminum or glass dishwasher doors (will stick to some but not all stainless steel doors).
Price: $9.00
---
Bone-Shaped Magnet

What better way to proclaim your love for your best friend than with an indoor/outdoor magnet! This 7 x 2″ bone-shaped magnet is waterproof and screen printed with UV resistant ink. Display it on your car or truck, mailbox, refrigerator, filing cabinet, or any flat magnetic metal surface.
PRICE: $5.00 each
---
Round Magnets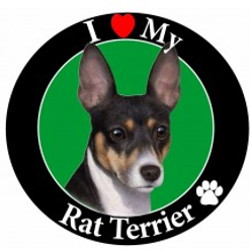 Here's another option for speaking your mind about your beloved rattie in bright fade-resistant color. Stick it easily to any magnetic surface. Approximately 5″ diameter.
PRICE: $4.00 each
Paw-Shaped Magnets
It's easier than getting on a soapbox! Easy-on, easy-off magnets do your speaking for you. These high quality, UV coated car magnets are great for cars, trucks, refrigerators, mailboxes, lockers or any magnetic surface. Approximately 5×5″.
PRICE: $4.00 each
---
---
CONTINUE SHOPPING
Dog Gear * Giftables * CLEARANCE SALE