Our Sick and Injured Dogs
Some of the dogs we rescue have severe illnesses or other serious medical issues that are much more costly than the money brought in by adoption fees. To help nurse these dogs through their medical needs so that they can eventually become healthy and adoptable, we must find sponsors to help with the costs. Please read their stories and consider becoming an angel that these Rat Terriers so desperately need. Canine Clinic Donors are listed on our Donor Recognition Board with donations of $50 or greater denoted by our clinic icon. Also, please pay a visit to our Heartworm Info web page to learn about Ratties needing Heartworm Treatment.
NOTE: In the event that donation amounts are raised in excess of the required vetting for any particular clinic dog, the overage will be used to assist other current or future New Rattitude clinic dogs. All clinic funds stay within the clinic specifically for dogs with special financial health needs.

Tyler – Lumbar Disc Compression
Tyler was abandoned in a remote area of Louisiana and left to die. He was unable to walk when found, so it's suspected he was left because his owners would not or could not care for him. Tyler was transported to a foster home in Georgia that has extensive experience with caring for dogs with this type of injury. He was examined by a vet and x-rays were taken. The diagnosis is lumbar disc compression; the suggested treatment is acupuncture and laser therapy. After just one treatment his mobility is already improved!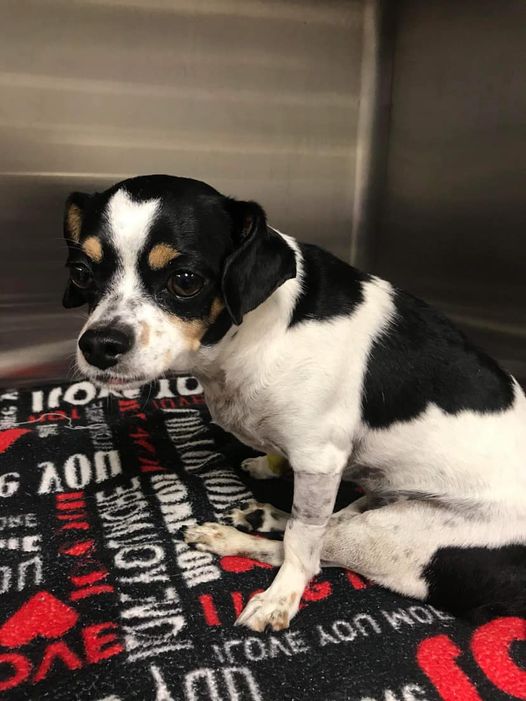 The estimated cost of Tyler's diagnostics, pain medication, and series of treatments is $800.00. Help us get Tyler back on his feet by clicking the "sponsor this dog" button below to donate!
Last updated: 11/18/22
If you prefer, you can mail a check or money order to:
New Rattitude
P.O. Box 91
DeWitt, MI 48820
Please be sure to write "Sponsor Tyler" in the note field of your check.
THANK YOU!
Etta – Heartworm Disease
Etta's owner went to jail and she was left behind with his girlfriend who mistreated her and put her out on the streets.
We're sure she had multiple litters of puppies and struggled to survive in a rough part of town. New Rattitude rescued her 4-week-old puppies first, but Etta was nowhere to be found. It took another month to find Etta and gain her trust enough to trap her.
Fast forward another month and Etta has become a sweet little "velcro dog" that loves to snuggle with her foster mom. We're so glad she's no longer on the streets.
Not surprisingly though, Etta tested positive for heartworm disease. This disease is spread by the bites of mosquitos that carry the infective heartworm larvae. Heartworms that live inside the dog mature into adults and produce offspring. Heartworm disease causes lasting damage to the heart, lungs and arteries and can be fatal.
Etta will be undergoing a treatment protocol involving several steps to rid her body of the deadly heartworms over a period of several months. It has some risk and the injections are painful, but this treatment is necessary to save her life. Don't worry, Etta – you've got this! And New Rattitude and all our supporters have your back!
If you would like to donate towards Etta's heartworm treatment and cheer her on to wellness, please click the "sponsor this dog" button below!
Last updated: 11/03/22
If you prefer, you can mail a check or money order to:
New Rattitude
P.O. Box 91
DeWitt, MI 48820
Please be sure to write "Sponsor Etta" in the note field of your check.
THANK YOU!
---
---